Product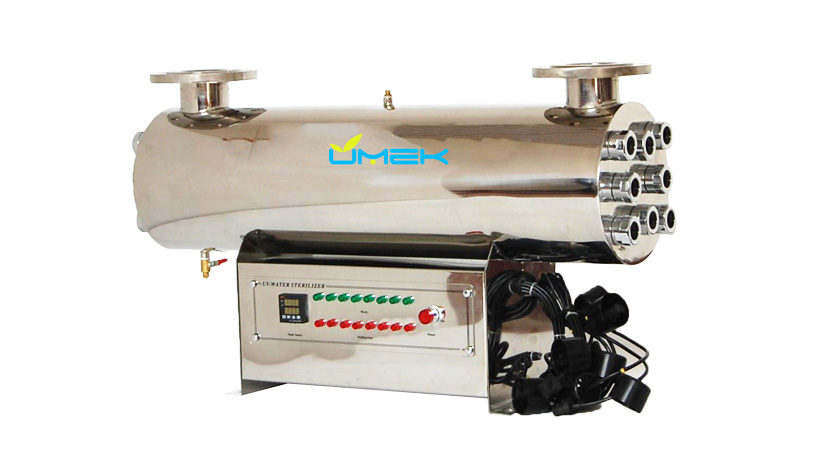 UV Water System Features
1.Fast
It takes a few seconds to sterilizing and disinfection at 99.99%.
2.No Two Pollution
UV System will not use any chemicals, so it will not pollute the water source.
3.UV Lamp Long Service Life
UV lamp uses 9000 hours , and UV stainless steel chamber overall life of up to 15 years.
4.Broad-spectrum Bactericidal
In the existing sterilization technology, UVC technology has the highest spectrum bactericidal capacity. It can kill almost all bacteria and viruses, and can also kill harmful parasites (such as Cryptosporidium and Giardia), which can not be killed by chlorine or ozone.
5.Wide Range of Applications
UVC technology has a wide range of applications. It can disinfect fresh water, sea water, drinking water and waste water. ultraviolet water sterilizer can be applied in a wide range of water .
6.Advanced Technology
ultraviolet system technology and efficient production by exposure to intense ultraviolet light in the ultraviolet housing, high strength and long life, special design technology, modern preventive medicine, optics, mathematics, biology and physical chemistry based on.
UV disinfection and disinfection have become standard in many water treatment industries, including municipal drinking water and wastewater treatment, industrial production and manufacturing, aquaculture and marine water treatment. UV water systems are designed to ensure that water is free from harmful microorganisms. UV is a proven, standardized and environmentally friendly technology.
UMEK designed and developed a wide range of UV systems specifically for municipal drinking water and wastewater treatment applications.
please contact our sales team on: +86-311-89906694 .email:sales@uv-ozonechina.com
Through the studies, UV ray mainly kills the microbes (pathogene such as germs, virus, gemma of fungus, etc) by radiation damage and function destruction of nucleic acid for the purpose of sterilization. UV rays can cause the breakage of nucleic acid's strand, inter-strand cross-linking and formation of photochemical products, etc. thus to change the biological activity of DNA and inhibit the reproduction of microbes. Therefore, this UV damage is also fatal.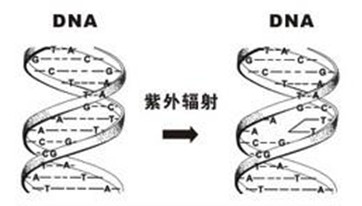 * UV radiation (UVC) can destruct the DNA of microbes irreversibly so that they can not reproduce until death finally.
Operating conditions
- Environmental conditions
Temperature: 5℃~40℃
Relative humidity: ≤90% (at ambient temperature 25℃)
- Power supply: 110V/ 220V/50Hz
- Max. operating pressure: ≤1.0MPa
- Water supply requirements
Indicator
Fe≤0.3 (mg/l)
Hydrogen sulfide≤0.05 (mg/l)
Suspended solid≤10 (mg/l)
Mn≤0.05 (mg/l)
Hardness≤120 (mg/l)
Chroma≤15 (degree)
Turbidity≤5 (NTU)
Water temperature5℃~60℃
The advantages of the ultraviolet disinfection
1. Ultraviolet disinfection technology is very expeditious in destroying bacteria.
UV energy can destroy bacteria and virus in just about 1-5 seconds. In order to reach the same disinfection effect, it costs about 30 minutes or more contact time by use other chemical methods (Chlorine, Ozone, Chlorine Dioxide).
2. Comprehensive range of disinfection.
Ultraviolet disinfection technology has been widely applied for efficiently destroying pathogenic microorganisms, bacteria and virus.
3. No secondary pollution.
Since no chemical is added, ultraviolet disinfection system will not cause secondary pollution for water and environment.
4. Low operational costs, simple operation and maintenance and economical prices.
5. Occupied small space
Occupied small space and easy assembly enable UV equipment to be installed at the place near water and power source. The ultraviolet equipment starts working after connecting the inlet and outlet of the Ultraviolet equipment and powering up.
Ultraviolet application
Pure Water: Drinking Water; Tap Water Factory; Food Process Water; Hospital and Pharmaceutical; Beer industry; Hotel; Lab ultrapure water; Cosmetics industry.
Circulating Water: Water Entertainment Facilities Swimming pool water; Landscape Water; Industrial Circulating Cool water; Spa; Micro-electronics.
Wastewater: Municipal Sewage; Hospital Sewage; Oilfield Reinjection Water; Urban Sewage; Reclaimed Water; Slaughter-house Wastewater; Sewage from ships.
Aquaculture: Hydroponic Shellfish; Fish Hatcheries; Farms; Aquarium.